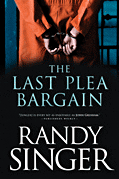 I love Randy Singer's books, and try to pick them up as much as possible. As someone who just isn't that into romance novels and corny stories, I find it hard to find a good Christian fiction book that isn't a romance story, and even more to find a good crime-related one that is well written. So any time I see Randy Singer's book I make sure to purchase them!
I loved this book, it followed suit of the other novels he's written, in the way that the story had a great flow to it with plenty of adventure and intrigue too!
This novel centers around Jamie Brock who is a young Assistant DA, who finds herself prosecuting a prominent defense attorney who is accused of murdering his wife. As the system begins to screech to a halt, she is forced to make compromises and do what she swore she'd never do.
I loved this book, but couldn't stand the main character (but I think that's the sign of good book, when you don't like a character, but still love the story). I felt that she was using the law to fill her own personal vendettas, which bothered me so much!
All in all though, I loved this book, like the other Randy Singer stories I've read, it was a great book that I'll be reading over and over again!!
*I received this book from Tyndale Media Center in order to review it. All opinions in this review are my own, and I am in no way required to give a positive review!