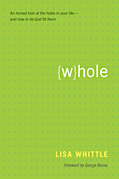 I received this book from Tyndale Media Center for the purpose of reviewing it, My reviews are based solely on my opinion and I am not required to give a good review!
This book came at a real opportune time for me, I think we all go through those times where we feel that we have a significant "hole" missing or that something that ought to be there isn't. I honestly didn't have really big expectations for this book, I've read too many that give simple cop outs as to why the reader doesn't measure of and is there for "missing" being whole. I'm glad however to know that this book was so much more than that. Lisa Whittle showed a lot of vulnerability in what she wrote about her personal life struggles, and I'm very impressed that she was willing to get that vulnerable in order to connect with the reader.
As someone who is involved with leadership in churches (My husband is a Pastor) I am really weary about books that like to point out all the ways that the church has "failed" them. I tend to feel defensive about this, as I feel that while churches do try to work towards helping people and being there for people, we are also human and there for imperfect. So when I started reading about the way that her (Whittle's) church "Failed" her I was rather weary and a bit defensive at first. However, that feeling didn't last. Whittle was honest in her approach, and while acknowledging where the church fell short, she didn't play the blame game and belittle/criticize her leadership.
I like this book a lot, and in fact have recommended it for our leadership in the church. I think it will be a valuable resource for our leadership team, as well as a great tool for our congregation!